Micronor MR310/MR320 series are the only 100% Passive Fiber Optic Incremental Encoders on the market today. The innovative design is based on an all-optical, passive sensor linked to a remote interrogator module via a industry-standard fiber optic link. Features include:


• Passive optical sensor eliminates need for remote power supply, isolation barriers and EX cabinets
• Immune to EMI, RFI, lightning and ground loops
• Standard temperature range -40°C to +80°C; Optional Extended temperature range -60°C to +150°C
• ATEX categorized as "simple apparatus"
• EX classified "inherently safe" for use in mines, oil rigs, petrochemical plants, etc.
• Eliminates need and expense for isolation barriers, special EX cabinets, etc.
• Provides interference-free encoder feedback over long distances
• Outperforms resolvers and electronics-based encoders in challenging environments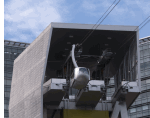 The original MR310 series was launched in 2004 and granted U.S. Patent 7,196,320. Our product launch customer Frey AG uses the heavy duty MR316 sensor and MR310 interrogator for control of aerial cable cars installed in mountain resorts and cities all over the world. One of these is the Portland Tram in Portland, Oregon. In 2009, Micronor launched the first commercially-available, MRI-compatible encoder. In 2011, Micronor launched the second generation MR320 series of fiber optic incremental encoders.






Fiber optic encoders provide interference-free feedback in challenging environments such as mines, steel mills and oil rigs. The diagram below illustrates a typical application where the fiber optic encoder is used to provide noise-free, closed loop feedback for precise control of a VFD or High Voltage Drive system:





We recommend the MR320 series for new applications but the MR310 series is still available. For MR320 product info, scroll down or use these direct links:

• MR320 Controller Module
• Standard 360ppr Sensors: MR322 MR326
• High Resolution 1024ppr Sensors: MR324 MR325
• MRI-Compatible 360ppr Sensor: MR328
>>Article: Fiber Optic Rotary Encoder Offers EMI Immunity in Harsh Environments