01/08/14 | MR330 Fiber Optic Position Sensor Now With 14-Bit Resolution
To celebrate
2014
, Micronor has increased the single-turn resolution of the MR330 series Fiber Optic Position Sensor from 13-bits to
14-bits
. This was achieved with improved electronics and the firmware-based algorithm in the MR330-1 Controller. The new production MR330-1 Controllers are backwards compatible with older models and older Controllers can be upgraded for a nominal charge. COntact Micronor sales for additional information.
---
08/01/13 | World's First MRI Safe Absolute Position Sensor
MR338
is the world's first commercially-available, MRI Safe absolute rotary encoder. The
innovative all-optical, non-metallic passive sensor design
provides high resolution 13-bit (8192-count) absolute angular position over 0°-360° plus 12-bit (4096-count) multi-turn tracking. The encoder is designed for use in
functional-MRI research
, MRI teach phantoms, EMC test and other challenging electromagnetic environments where EMF and RF transparency is required.
---
05/20/13 | Micronor Celebrates 10 Years of Fiber Optic Sensor Innovation
May 2013 marks 10 years since Micronor Inc. was first established in a modest business unit on Old Conejo Road in Newbury Park, California. In additional to providing sales and service for Micronor AG products in the North America, Micronor Inc. brought together a group of ambitious fiber optic engineers who spent the next 10 years creating innovative fiber optic sensors. We branded them
ZapFREE®
because of their immunity to EMI, RFI and lightning.
2004-World's First Commercial FO Incremental Encoder (MR310)
2007-US Patent 7,196,320 awarded for FO Incremental Encoder
2010-World's First Commercial MRI-compatible FO Encoder (MR318)
2011-World's First 13-bit FO Position Sensor (MR330)
2012-World's First Commercial MRI-compatible FO Position Sensor (MR338)
2013-US Patent 8,461,514 awarded for Fiber Optic Absolute Position Sensor
---
02/21/13 | World's First MRI Safe Absolute Encoder Wins ASME Project of the Year Award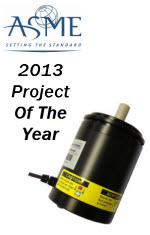 At the 2013 National Engineers Week® Awards Banquet for Santa Barbara and Ventura Counties, ASME Channel Islands Section recognized Micronor's
MR338 MRI Safe Absolute Position Sensor
as Project of the Year. In addition to being the world's first commercially available MRI Safe Absolute Encoder, the product development included many unique engineering and material science challenges in the quest for creating a non-metallic version of its successful MR332 Absolute Sensor. For more information on the project's challenges and innovations, check out the
MICRONOR MR338 POY Presentation
for the whole story.
---
03/26/12 | FO Position Sensor Wins 2012 Engineers' Choice Award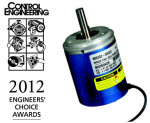 Micronor's
MR330 series Fiber Optic Absolute Positon Sensor
won
Control Engineering
magazine's
2012 Engineers' Choice Award
in the
Discrete Sensor
category. With a readership of nearly 90,000, CE readers voted for best products in 30 categories of control, instrumentation and automation, revealing the best of those introduced in 2011.
---
01/06/12 | New MR320 Series Fiber Optic Incremental Encoders
Micronor's new
MR320 series Fiber Optic Incremental Rotary Encoders
represent the 2nd Generation of the MR310 series originally introduced in 2004. With 8 years of customer usage, these fiber optic sensors have demonstrated their intrinsic immunity to EMI and inherent safety in all manner of challenging environments. Design and performance improvements include:
Duplex fiber design increases optical loss budget by 6dB
Maximum distance extended to 2500 meters
Duplex LC interface is user friendly and better performing
Same package and extended temperature options as original MR310 series
ATEX classified Simple Apparatus for safe use in mines & haz locations