05/10/13 | Micronor Celebrates 10 Years of Fiber Optic Sensor Innovation
May 2013 marks 10 years since Micronor Inc. was first established in a modest business unit on Old Conejo Road in Newbury Park, California. In additional to providing sales and service for Micronor AG products in the North America, Micronor Inc. brought together a group of ambitious fiber optic engineers who spent the next 10 years creating innovative fiber optic sensors. We branded them
ZapFREE®
because of their immunity to EMI, RFI and lightning.
2004-World's First Commercial FO Incremental Encoder (MR310)
2007-FO Incremental Encoder Patent Approved
2010-World's First Commercial MRI-compatible FO Encoder (MR318)
2011-World's First 13-bit FO Position Sensor (MR330)
2012-World's First Commercial MRI-compatible FO Position Sensor (MR338)
2013-FO Absolute Position Sensor Patent Approved
---
02/21/13 | World's First MRI Compatible Absolute Encoder Wins ASME Project of the Year Award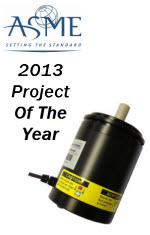 At the 2013 National Engineers Week® Awards Banquet for Santa Barbara and Ventura Counties, ASME Channel Islands Section recognized Micronor's
MR338 MRI Compatible Absolute Position Sensor
as Project of the Year. In addition to being the world's first commercially available MRI Compatible Absolute Encoder, the product development included many unique engineering and material science challenges in the quest for creating a non-metallic version of its successful MR332 Absolute Sensor. For more information on the project's challenges and innovations, check out the
ASME Channel Islands website
for Micronor's POY nominating presentation.
---
03/26/12 | FO Position Sensor Wins 2012 Engineers' Choice Award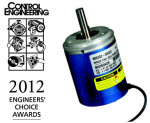 Micronor's
MR330 series Fiber Optic Absolute Positon Sensor
won
Control Engineering
magazine's
2012 Engineers' Choice Award
in the
Discrete Sensor
category. With a readership of nearly 90,000, CE readers voted for best products in 30 categories of control, instrumentation and automation, revealing the best of those introduced in 2011.
---
01/06/12 | New 2nd Generation Fiber Optic Incremental Encoders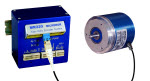 Micronor's new
MR320 series Fiber Optic Incremental Rotary Encoders
represent the 2nd Generation of the MR310 series originally introduced in 2004. With 8 years of customer usage, these fiber optic sensors have demonstrated their intrinsic immunity to EMI and inherent safety in all manner of challenging environments. Design and performance improvements include:
Duplex fiber design increases optical loss budget by 6dB
Maximum distance extended to 2500 meters
Duplex LC interface is user friendly and better performing
Same package and extended temperature options as original MR310 series
ATEX classified Simple Apparatus for safe use in mines & haz locations
---
05/31/11 | World's First Fiber Optic Absolute Position Sensor
Today, Micronor's introduces the world's first
fiber optic absolute position sensor
with EMI immunity, lightning resistance and 13-bit resolution. See the press release in 8 different languages...
English
Chinese
French
German
Italian
Japanese
Portuguese
Spanish
Check out what the media had to say in... DesignNews MedicalDesignTechnology(MDT) MEDTECHinsider Sensors WindpowerEngineering
---
11/22/10 | PTE Article Explains Pros & Cons of Limit Switches, Resolvers and Encoders
August-2010 issue of
Power Transmission Engineering
magazine featured this Micronor article titled
Sensing The Motion: Rotary Position Sensors - Electromechanical, Electronic and Fiber Optic
. Three case studies (gantry crane, wind turbine and aerial cable car) are used to explain the pros and cons of the 5 major types of position sensors:
Geared Limit Switches
Resolvers

Optical Rotary Encoders
Magnetic Rotary Encoders
Fiber Optic Rotary Encoders